You may be buying the wrong tulips. Yes, you read that right. There is a whole world of tulips out there, and not all are bred for the same purposes. Whether you want showy rainbows of colour or hardy perennial bulbs, here are the types of tulips you need to keep on your radar this fall.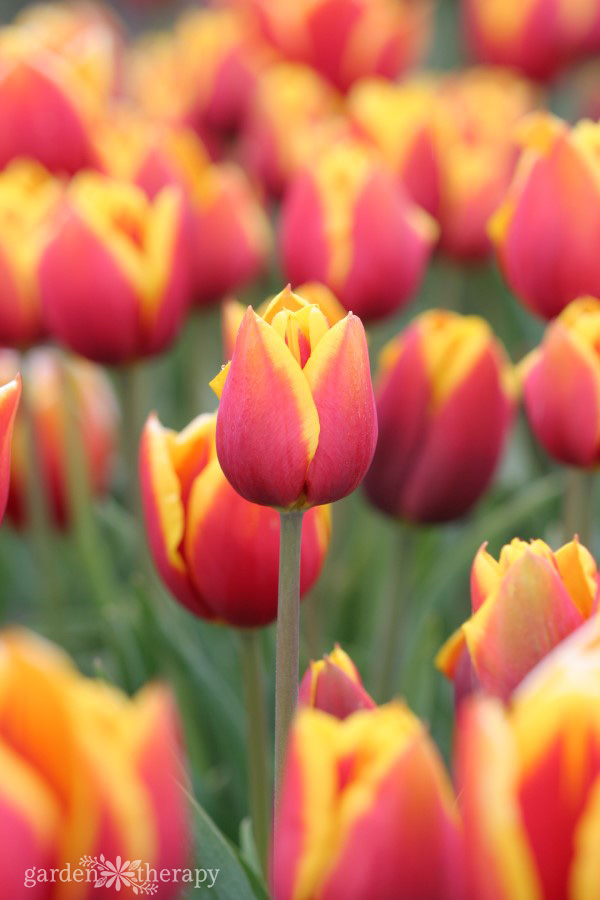 Most people will get their tulips from Home Depot or the garden centre and just plop them in their yard in the fall. In the spring, they'll get showy displays of bright tulips that dethaw the winter blues. We often think the work is done, planting them once and expecting them to return.
So why are your tulips not coming back? Or perhaps they've gotten less impressive as the years have passed.
Well, what if I told you there are many different types of tulips, some of which are annuals while others are perennials? Not every Tulipa is the same!
We see these big flower farms with epic displays of tulips, ranging in different hues and shapes. They're skyrocketing our expectations for our own gardens. But most of those growers buy new bulbs every year!
Yes siree, the world of perennial tulips isn't so cut and dry as you may think. Today, I'm breaking down the many different types of tulips to help you make the right bulb-buying choice this fall.
This post will cover…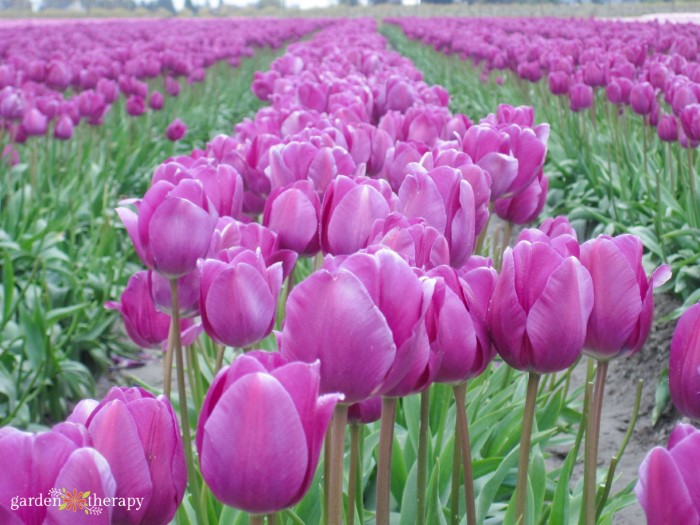 The Fascinating History of Tulips
Tulips have been a hallmark of Holland, alongside windmills and wooden clogs. But before they rose to popularity in Holland, tulips had humble origins as a wildflower in Central Asia, southern Russia, Turkey, and Iran.
The wild tulips were small and grew in warm red, orange, and yellow colours. The flower would spread through seeds via the wind or slow bulb division. While people didn't often frequent the mountainous regions where these flowers grew, traders and soldiers eventually carried the seeds to the Turkish and Persian courts.
Tulips were cultivated in Persia as early as the 10th century. Today, they remain a national symbol of Iran. They were called "lale," a word that shares the same letters with the name of God.
The first record of tulips in Western Europe comes from the journal of German botanist Conrad Gesner. He saw the flowers in the garden of a rare plant collector in 1559.
The French were the first in Europe to go wild for tulips. At one time, tulips were as expensive as jewels. The noblewoman would pin them to their decolletage when dressing for court. The breeding industry began to grow, and tulips found a home in formal gardens.
But growing political upheaval in the 18th century and the rise of Dutch breeders took away from the French popularity of tulips.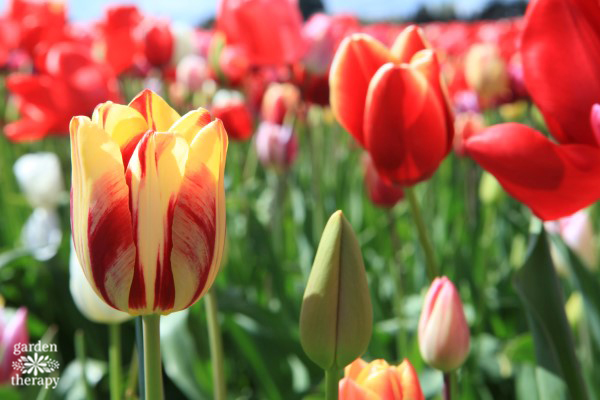 The Dutch and Tulipmania
In the early 17th century, the Dutch Republic was one of the richest countries in Europe. With so many affluent people residing in Holland, the rich sought a way to show off their wealth. The tulip became a symbol for those affluent people.
The tulip craze started slowly, beginning in the 16th century. Then, middle-class artisans and farmers were the ones who cared for, bought, and sold tulips. But by the 1630s, tulip prices increased quickly, and the tulip market became a place to get rich quick.
The rare tulip bulbs were the most sought after, with the broken tulip being the most rare of all. In 1636, a single Semper Augustus bulb cost as much as a large house on Amsterdam's best canal. It was the rarest tulip flower, a swirled red and white broken tulip.
But as the rare bulbs became more common, the tulip market crashed. The supply of tulips was higher than the demand.
While the tulip market crashed, Tulipmania meant that the Dutch knew how to grow tulips. Tulips had also gained worldwide attention at this point, and the export industry took off. Today, the Dutch still produce about 60% of the tulip bulbs worldwide.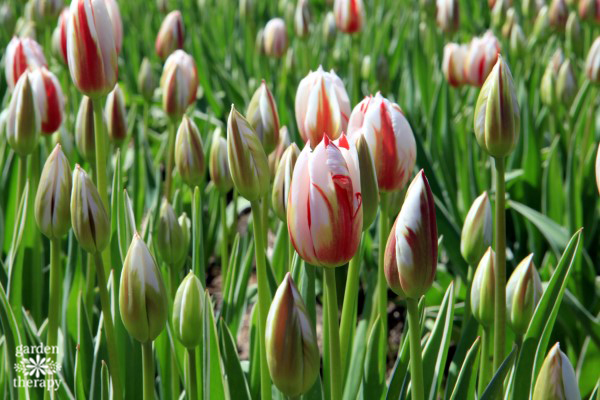 Perennial vs. Annual Tulips
You may have been like me, who, at one point in my life, assumed that all tulips were perennial. I would plant them in my garden, and they would return for years to come.
But not all tulips are meant to be perennials. Thanks to their popularity as cut flowers, some are meant to be grown for one season, producing one large showy bloom to be cut and displayed in a vase. For this reason, annual tulips are best for mass colourings and showy displays.
Perennial tulips are meant to remain undisturbed in the ground. Don't cut the flowers if you want them to come back! That goes for the foliage, too. Even after the flower is gone, the leaves charge up the bulb to return the following year.
There are also tulips designed for naturalizing. Like perennials, they will come back each year, but they're even longer lasting. Under ideal conditions, they will reproduce on their own, and their numbers will continue to increase.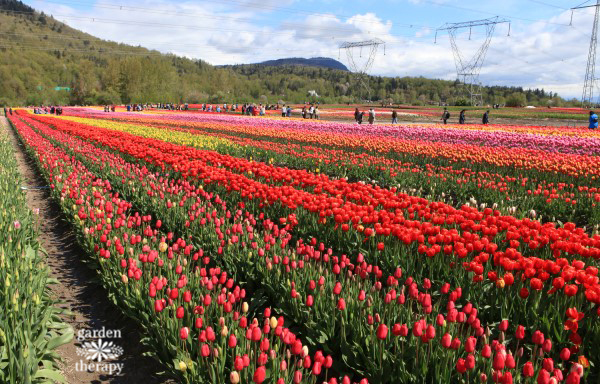 The 15 Types of Tulips
There are an endless number of tulips out there. The Netherlands alone exports over 8,000 varieties of tulips every year. With so many tulips, they can all be classified into 15 groups to make identification easier. These tulips are grouped based on their flower shape and their flowering period.
Here are the 15 different types of tulips you can grow in your garden.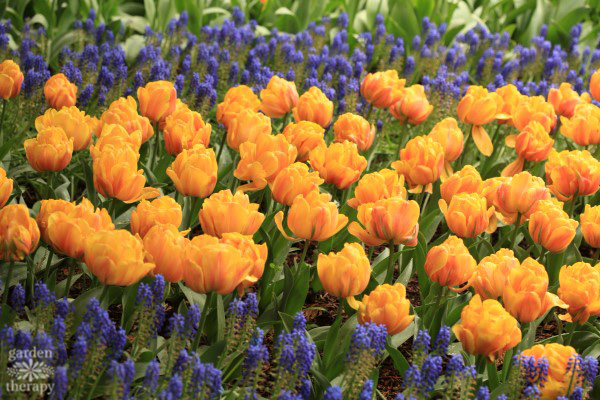 Single Early Tulips
One of the first tulips of the season, they often emerge in April and produce a single layer of large, rounded petals. They're great for containers since they only reach about 40 cm tall.
Double Early Tulips
These tulips also bloom early in spring but instead produce large double flowers. When open, they can be upwards of 10 cm wide, but they don't grow as tall as single early tulips.
Triumph Tulips
Triumph tulips are a hybrid of single early and single late tulips. They also happen to be the largest group of tulips, and they can feature quite a range of appearances and colours. Some appear pointed, while others have rounded flowers.
They begin flowering in mid-spring and are known for their sturdy flower stems reaching 40-50 cm tall. Many choose them as a container when protected from the cold in zone 7 and higher. Most triumph tulips can be perennialized.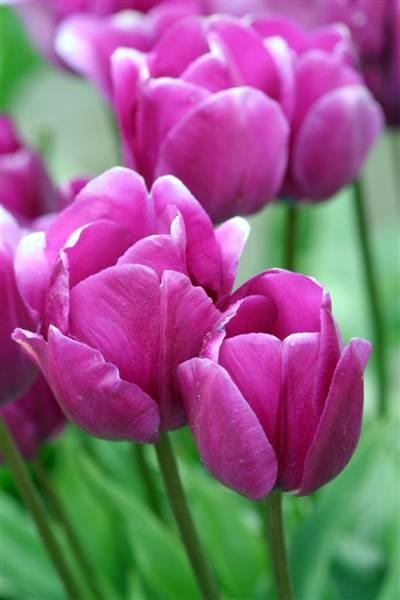 Darwin Hybrid Tulips
Darwin Hybrid tulips produce the classic egg-like tulip shape before opening wide. They have strong stems and long-lasting flowers. If you want a perennial tulip, Darwin Hybrids are one of the best options, and they will rebloom for several years. Just make sure to allow the foliage to die back naturally.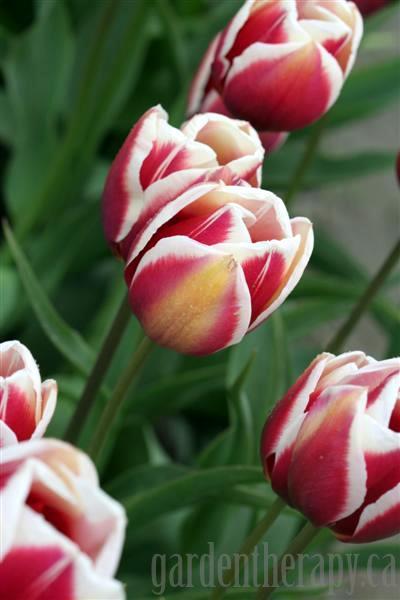 Single Late Tulips
This group encompasses many tulips. Single late tulips typically bloom in May, with elongated flowers on sturdy stems about 60 cm high. The famous near-black tulip, 'Queen of the Night,' belongs to this group of tulips.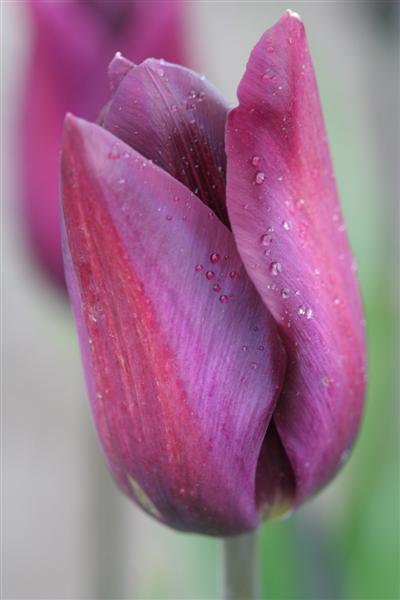 Lily-Flowered Tulips
As the name suggests, the petals on this tulip flower are pointed and create a distinct lily shape. Lily-flowered tulips grow on slender stems that can reach 50-60 cm tall and may need some shelter from wind. This tulip blooms in late spring and is great for annual bedding gardens. Many will recognize the popular 'Ballerina' cultivar from this group.
Fringed Tulips
Also known as orchid tulips or crispa tulips, fringed tulip flowers are one of the more playful and unique types of tulips out there. The petals on the ends are serrated, giving them a noticeable fringe and fluffy look. Sometimes, the fringe is a contrasting colour to the rest of the petals. These tulips bloom mid to late spring.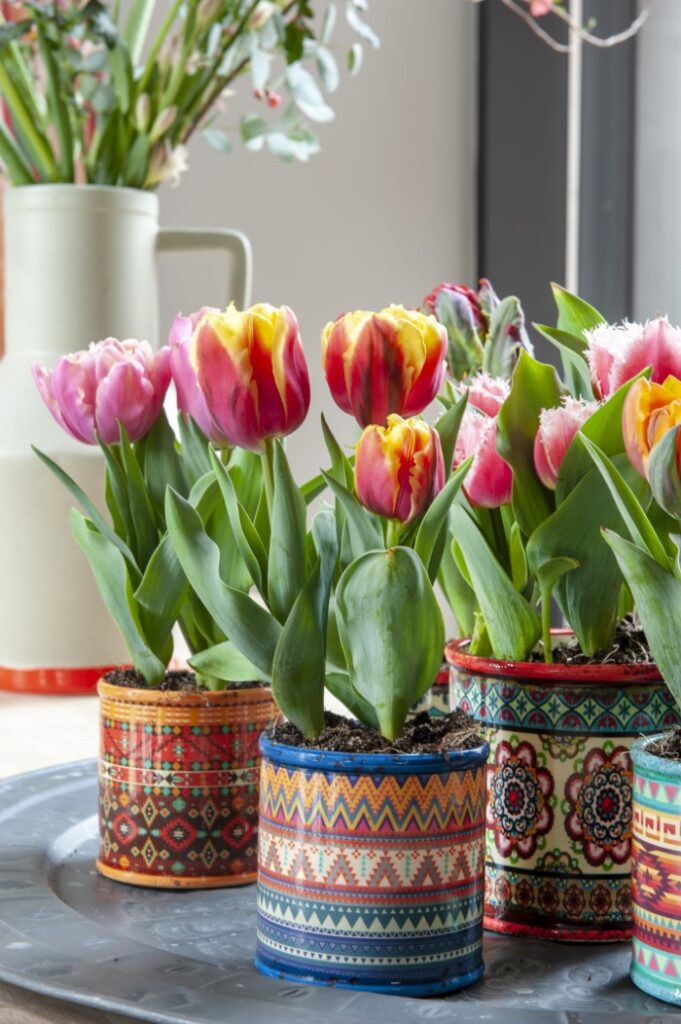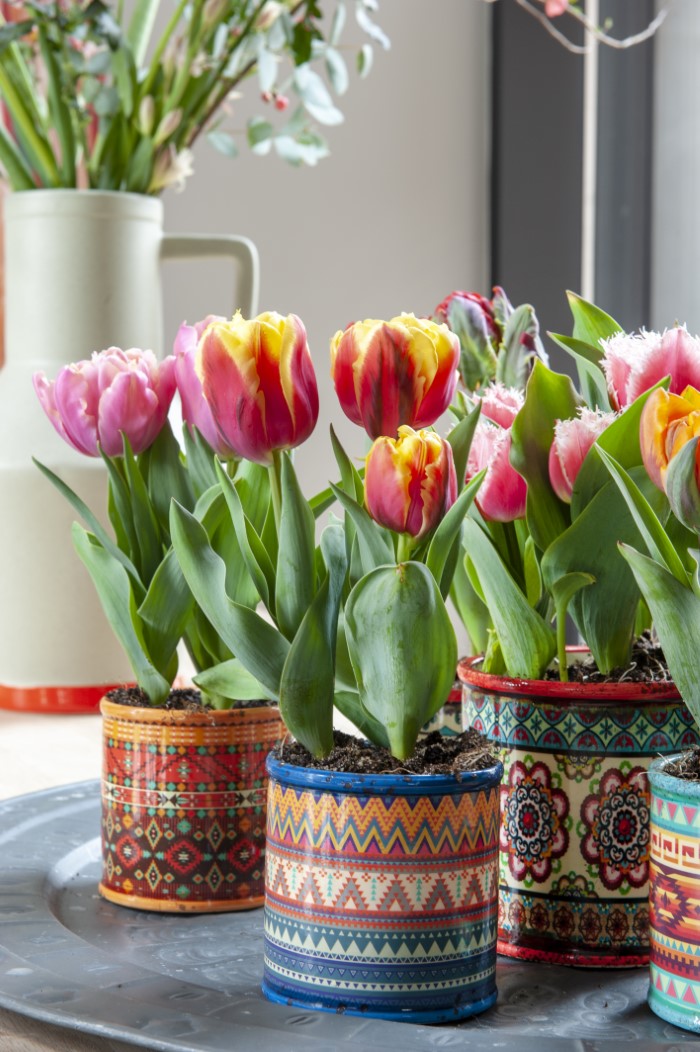 Viridiflora Tulips
At first, these tulips appear almost entirely green in colour as the outer petals are green when new. But as they get older, the secondary colour shows more and more. Once in bloom, the flowers last quite a long time, beginning to bloom in mid-late spring. They can range from 20-50 cm tall and can be a perennial tulip.
Rembrandt
The name tells us just when these types of tulips were in peak popularity, as they were often featured in paintings due to their unique markings. They have stripes or markings in brown, red, bronze, red, pink, or purple on a white or yellow petal. It's why they're also often called broken tulips (like the rare tulip from the 17th century!).
Historically, these markings were from a tulip virus and could destroy a stem in the long run. Now, the descendants of these tulips are virus-free but retain the colourful patterns.
Parrot Tulips
Thanks to a mutation, parrot tulips have a distinct colouring and form. The petals can be fringed, curled, cut, and twisted into unique shapes. Many of them are also bi-coloured. They bloom late, opening up into large, saucer-like flowers. Their height ranges from 40-60 cm tall, and they should be protected from heavy wind.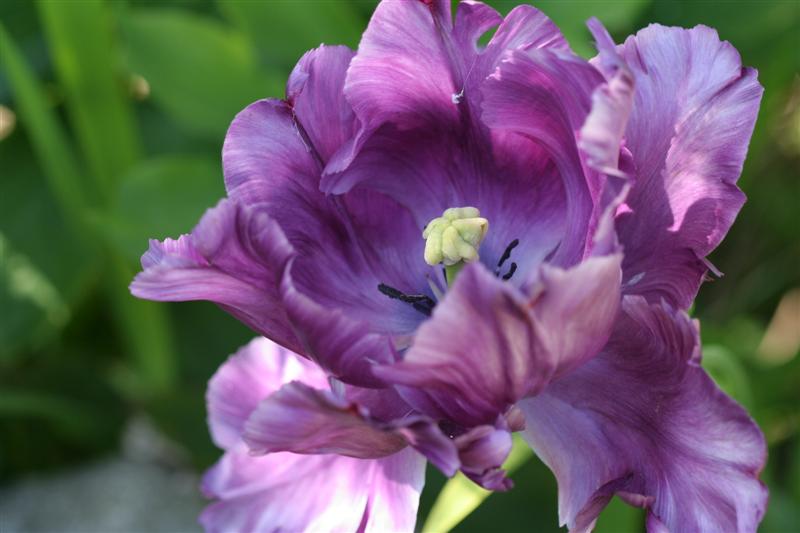 Double Late Tulips
Also known as peony-flowered tulips, these tulips can really be mistaken for peonies if you don't look closely. The double flowers have large rounded petals and grow very big and lush. Double late tulips come in many colours, and many are bi-coloured. They're one of the best tulips for a cutting garden and look fantastic planted in mass.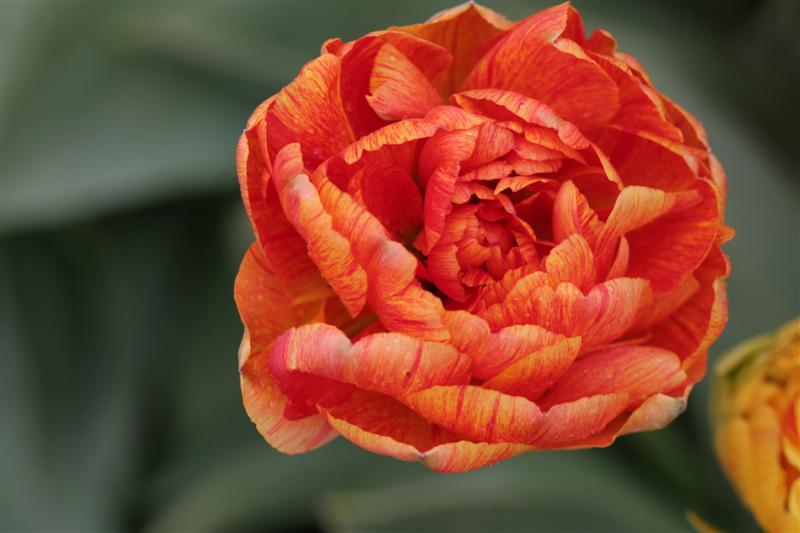 Kaufmanniana Tulips
Also known as waterlily tulips, Kaufmanniana tulips will open wide in the sun and resemble water lilies. They come in various colours, often with contrasting centers. They grow compactly, with stems that are only 10-25 cm tall. This makes them an excellent option for rock gardens and containers, though they need protection from cold in zone 7 and below. They're known as an early-blooming tulip and are likely to naturalize.
Fosteriana Tulips
Fosteriana tulip flowers aren't quite as popular in North America as in Europe, but if you can get your hands on some bulbs, they're well worth seeking out. They're one of the best bulbs for naturalizing, and if you're seeking perennial bulbs.
They bloom from early to mid-spring and have large flowers atop grey-green stems 25-40 cm tall.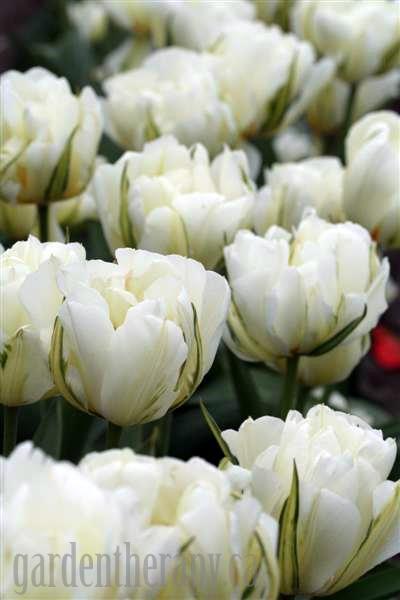 Greigii Tulips
Another reliable perennial tulip option is greigii tulips, likely because of their close resemblance to species tulip. They are typically found in red, yellow, or white and will have purple-speckled foliage or stripes on the leaves. So they look interesting even after the flowers have finished blooming in mid-spring.
Species Tulips
Also known as botanic tulips, these tulips are the closest relatives to the first collected tulips. They're much smaller than other tulips, with their height only ranging from 12-20 cm and have star-shaped flowers. They're the best tulips out there for naturalizing and will quickly cover areas en mass in the spring. This makes them a perfect choice for those planting a stinzen garden.
There are 65 species tulips, and each has their own fragrance and appearance. They are amongst the first types of tulips to bloom.
Frequently Asked Questions About Tulip Flowers
How many types of tulips are there?
Thanks to its early popularity, the tulip has been hybridized for hundreds of years. The result is thousands of tulip cultivars out there. These tulips can be broken down into 15 groups, which I have outlined above.
What are fluffy tulips called?
Fluffy tulips are often those with fringed or curly petal tips. These could either be fringe tulips or parrot tulips. Fringed tulips have a uniform petal with a fringed petal edge, while parrot tulips can be more twisted and curled in addition to fringed.
What is the rarest colour of tulip?
Tulips come in nearly every colour of the rainbow and colour combination, with two main exceptions. You can't find a naturally blue tulip and those that are true black. However, the 'Queen of the Night' tulip has quickly become famous for its nearly black colour, though truthfully, it's more of a deep purple.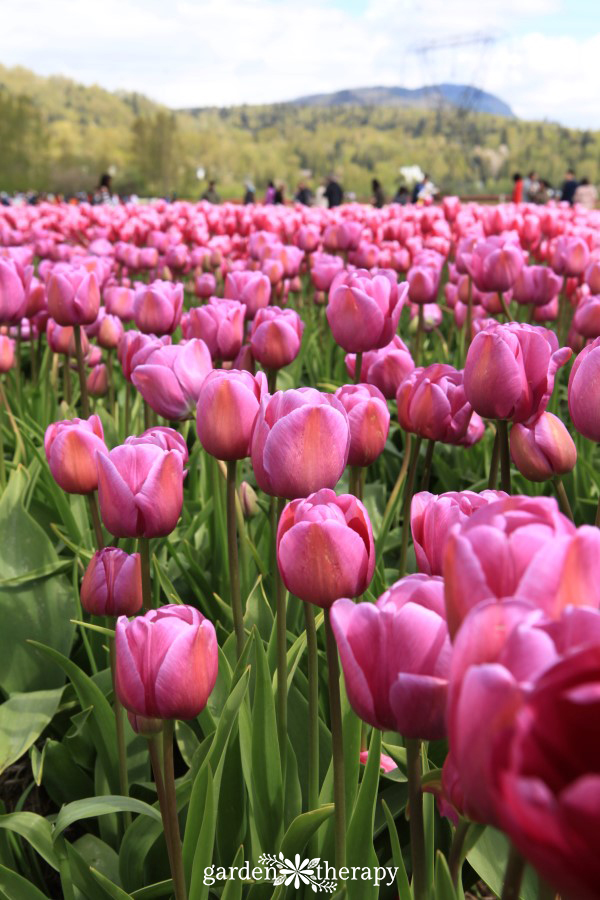 More Tips for Growing Bulbs